CARE & MAINTENANCE
Clean with a soft sponge or cloth using an aerosol foam or spray cleaner. We recommend you clean the silicone adhesive too... this will help prevent decay and separation of the water sealant.
To maintain the brilliant luster of your cultured product, just wipe down with a bath squeegee on a regular basis.
The following mild abrasives will remove simple scratches & stains:
Auto polishing compound,

Gel gloss, or

Baking soda & water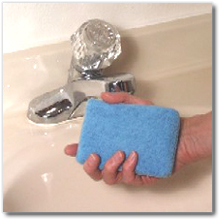 Never use a metal scrubber, scouring powder, or harsh chemicals on your cultured marble product. For example, nail polish remover can cause permanent damage to the gel coat, and can discolor the resin material itself.
For added protection, and increased shine, apply two coats of an automotive paste wax every year.
Given proper care, cultured marble will provide years of problem free use, in an attractive, and affordable package.
Care and maintenance guidelines are available in PDF format in the Downloads section.